Some of My Favs
​
Welcome to the Fire Room
A young man is confronted by a menacing bartender. Horror. Quite disturbing.
​
Nib-Ron's Warning to OrbEarth
Take heed, gullible earth creatures. (But something is lost in the translation.)
​
Five Finger Fillet
The Contender challenges Tough Guy Champ to the ultimate knife game.
​
Cuttin' Onions with Zemek
I try to show graffiti artist gangsta dude Zemek how to chop onions. Weirdness ensues.
​
Espionage, kidnapping, torture, kinky sex and teddy bears. Horroror.
​
The Perfect Haunted House
Mr. Needles, Professor Terrington and Stik Mann search for the perfect haunted house to use in a zombie movie.
​
PFC Bee Dies for the Homeland
The last few horrible moments of brave Private First Class B. Bee.
​
Ditching Mr. D
I foolishly invite Mr. D to accompany me on my summer vacation.
​
Geothermal Giggle
It's a joke. It's just a joke.
​
Does God Hate Spokane?
A pop quiz about the Westboro Baptist Church, who brought their God-Hates-Everything show to Spokane.
​
Rogue Wave
I dream I am swamped by a rogue wave as I explore the beaches of The Olympic Peninsula.
​
What I Learned from the Spokane Anarchists
We march with the young rebels during their July 4th March for Rights.
​
The Flood
A paranoid-critical documentary about the Ice Age floods that scoured much of Washington State around 15,000 years ago. I also freak out about caves and hotel rooms and Indian spirits.
​
RetroViral Village
Stik Mann attempts to escape an alternate reality (of his own making?).
​
The Al-Ray
James and I canoe out on Mystery Bay to check on an old-school wooden work boat.
​
Cloudburst
I come upon a cloudburst near Joshua Tree National Park.
​
Shadow Biker
I slip into a wormhole and spend 24 years as apprentice to Evil Lord Saint-Chev who instructed me in the black arts.
​
Soup
I make soup. Quickly.
​
Encounter
Nature and I softly collide on the Fish Lake Trail early one Easter morning.
​
Occupy Spokane Dominates Downtown
The movement takes over downtown as they march on Chase Bank and the Bank of America, 10/15/11.
​
PETA Protests Cruelty to Fish
An awesome moment in Spokane's surreal history.
​
Fun with Firearms
Jesse and I have fun with firearms on Fourth of July morning.
​
Compliments
Randomly generated compliments with a rosemary/veal sauce.
​
Occupy Spokane
I film the first rag-tag meeting of the local offshoot of the Occupy Wall Street phenomenon.
​
Dick's Day - Day of the Dick
Vice President Cheney is welcomed to Spokane.
​
Crossing the Mighty Kootenai
I cross the very scary swinging bridge above the Kootenai River as it surges above flood stage.
​
Travel Notes
The mystery, religious pilgrimage, and Doubting Thomas angst I experience while traveling.
​
High Water
The Spokane River roars through downtown Spokane - Spring 2011
​
The Klamath River Whale
I film a gray whale who wouldn't leave the Klamath River Bridge.
​
Arm Chomping
Keeping the revered art of arm chomping alive at Mootsys Tavern.
​
Seaworthy
James shows off his salvaged boat. Then we tour his boat building school.
​
The Western Loop
The video journal of my 1/14 road trip.
​
A Christmas Moment
James has a "moment" at the Leroy Lovegun Christmas party.
​
Tat
Jesse visits the 2010 Spokane Tattoo Convention. I follow along with a camera.
​
Darlin'
Local band Darlin' plays Prago cafe in downtown Spokane. Angela Landsbury and Andy Griffin provide the subplot.
​
Lunch with Arp Xigar
Arp and I consume raw animal products and redefine the three martini lunch.
​
Vitt
A moment at the sauté station with the inimitable J. Vitt.
​
OtherSpokane's Christmas Special
The Leroy Lovegun Christmas Special (Party Crashing 101) Click here to see Jesse's version using the same footage.
​
Drip
Shemaleiah's retelling of the Gilgamesh legend. Artsy bondage.
​
Occupy Spokane's March on Chase Bank
The Occupy Spokane movement swells 10/14/11 and spills over into downtown Spokane.
​
the making of MEAT
A short film of us preparing to make the short-short film MEAT (included within).
​
Texas Tea
I meet Ash, a "pumper" from one of the many oil fields north of Pecos. He explains the mechanics of it all, from pump jack to wellhead. This is rural Texas.
​
Foxxy Moron Show 7/2/05
Foxxy Moron and the Sexxy Revolution at The B-Side Tavern.
​
OtherSpokane Intro
OtherSpokane's Instructional Video
Travel Clips
​
The Great Salt Flats
Descent into the Valley of Death
Anasazi Ruins
Mi Dentista Mexicano
No Thirteens in Las Vegas
Ghost Town
Antelope Near Devil's Tower
Paradox at Bonneville Salt Flats
Kansas Prairie Fire
Chicago Revelation
Early Creepy Collaboratiuons
with weird stories behind them.
​
CORK
Mr. Needles and Professor Terrington instruct an inept waiter on proper wine service.
​
GUNTher
GUNTher and friends have murderous Halloween fun.
Shorts and Experiments
​
Jumping to Conclusions at Pig Out in the Park
Whores4wars
Occupy Spokane's Diverse Folk
Deer in Downtown Spokane
Bestial Zen
Maniac
Drunk Dude Rescued
Because Art Matters
Ride
Shadows of Luigi
Do you smite me, sir?
Wiener
$1 PBRs
Where Did I Put My Sunglasses?
Ledger Parade
Titanic
Shem in Snow
The Line
Leroy Promo
Dealing with Evil
1night@Mootsys
​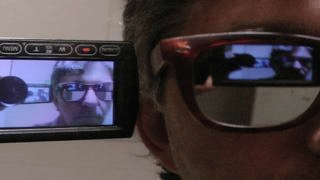 Go to my IMDb site, unless you have laundry to do or something. It's all a hoot but what the hay.